Why a falafel franchise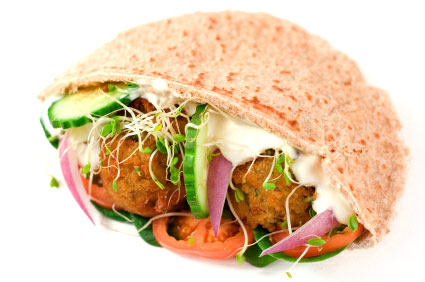 Low cost investment and entry costs
Healthy eating with high nutrition values
Staple diet for the Middle East and Mediterranean
High profit margins due to lower food costs.
Appeals to all ages, genders and races.
Lower cost output compared with other franchises, average of 25% cost to sales ratio compared with 35% plus for other types of food.
Multiple combinations and flavours available with salad options to vary taste and offer variety to keep customer returning for more.
New and innovative food franchise – proven falafel is loved all over the world.
Low staff overheads due to the simplicity of the falafel franchise, 2 members of staff working together can run a shift.

How is falafel made:
Falafel is made using dry chick peas which are soaked in water and then ground into falafel mix with spices such as cumin, coriander, garlic, salt, parsley, salt, and lemon juice.

How is falafel cooked:
Falafel is usually cooked in vegetable oil or sunflower oil and takes the shape of an oval ball. A falafel maker is usually used to make the shape of falafel and this is then released into a fryer and fried for around 30 to 60 seconds until the falafel is golden brown. The falafel maker can be purchased at www.falafelmaker.com

How is falafel served:
Falafel is usually served with hummus (a chick pea paste) and it is usually put in a wrap or in pitta bread and then salad and sauces are added. It can also be served on its own as falafel balls and can make a good starter snack. To find out exactly how falafel is served visit our shop at www.elfalafel.com and try a freshly made authentic falafel.